Our whelping box (how it is made)
We have had people ask about our box. Click on the thumbnails below to see assembly
We use a 10 panel exercise pen around the box. 10 panels fits around it like a glove.
Note: we don't use a pig rail, so if you do, that will have to be factored in.
See images below these thumbnails to see the box in use
---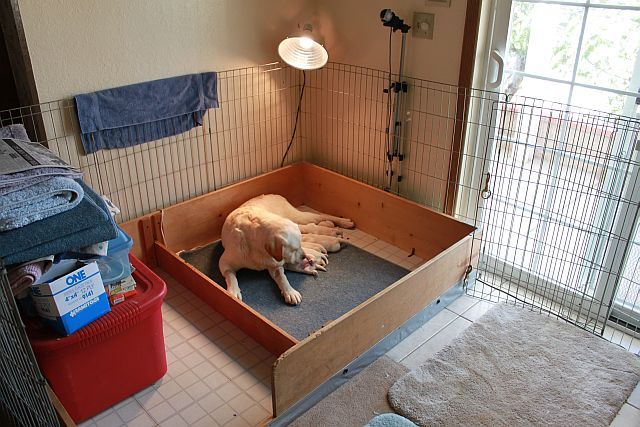 Whelping box in use during delivery (note rugs and equipment on one side of the box)
The "resting area" is cleared of equipment after delivery
to allow the mother a place to go and rest.
(note: earlier prototype did not have a drop down door, which I prefer)
Box shown without the divider to allow puppies (and the cat) to play in more area
shown with divider out (usually the exercise pen is closed to keep mom in)
We kept the drop-down door down for mom to get out easily.
This is what happens if you don't put it back up.... <grin>
JAIL BREAK!!!